ANGAU Hospital workers help keep community COVID-safe with DIY masks
Workers at PNG's ANGAU Memorial Hospital Redevelopment site recently helped produce face masks for staff, family and the wider community as part of the country's response to COVID-19.
Staff at the Lae site were provided with materials and trained in mask making, with 300 masks then issued to workers' families and the community with instructions for use, sanitisation and how to make more.
ANGAU Safety Manager Larry Watson said while disposable masks were readily available for use by staff on site, the DIY activity was undertaken to assist with the country's capacity to meet mask supply needs and reduce the need for ongoing purchase of disposable masks by PNG residents.
"The philosophy was the mask-making skill could then be transferred to the wider community through employees training their family and friends," Larry said.
"We also used it as an opportunity to conduct awareness sessions on COVID-19 as part of our effort to help minimise impacts in the region."
CPB Contractors started work on the hospital redevelopment in April 2018.
Project works include a new central energy plant and infrastructure, back-of-house services including kitchen and laundry, Tuberculosis and Paediatric Inpatient Wards, Birthing Ward, Childrens' Outpatient Department, Special Care Nursery, Acute services (Intensive Care Unit, Urgent Care Centre, Emergency Department and theatres) and Support services (Pathology, Imaging and Central Sterilisation).
The hospital provides critical health services for the city of Lae, which is one of the largest in Papua New Guinea, as well as the broader Momase region.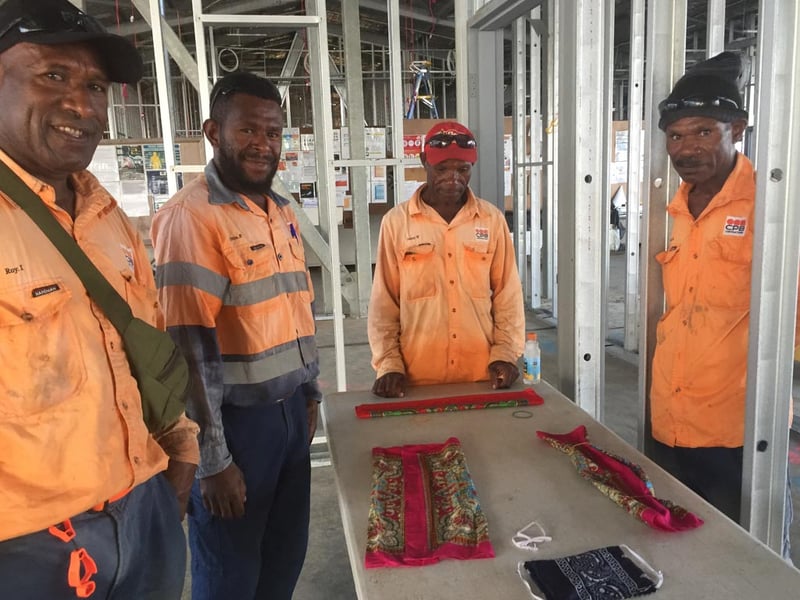 ANGAU Hospital Redevelopment workers Roy Ivan, Otto Evis, Kenny Waup and David Raite practice making reusable masks on site. Training was provided by ANGAU Safety Coordinator Catherine Malangen