CPB Contractors is the Managing Contractor for the planning phase of the Australia-Singapore Military Training Initiative (ASMTI) facilities project in North Queensland for the Australian Government's Department of Defence.
The ASMTI project in North Queensland will see the development of an estimated 310,000 hectare training area near Greenvale, 220km north-west of Townsville for use by the Australian Defence Force (ADF) and the Singapore Armed Forces (SAF).
The Department of Defence is also expanding the Shoalwater Bay Training Area in Central Queensland under the ASMTI.
Design work for the Greenvale site commenced mid-2021 and construction will commence at the completion of pre-requisite environmental approvals. More information on Defence environmental approvals is available in the ASMTI Newsletters here.
When the initiative reaches maturity, up to 14,000 Singapore Armed Forces will conduct unilateral training in Central and North Queensland for up to 18 weeks a year for 25 years, providing enduring benefits to the region.
CPB Contractors acknowledge the Ewamian, Gudjala and Gugu Badhun People as the traditional and continuing custodians of the lands on which the Australian Singapore Military Training Initiative Facilities project will be delivered.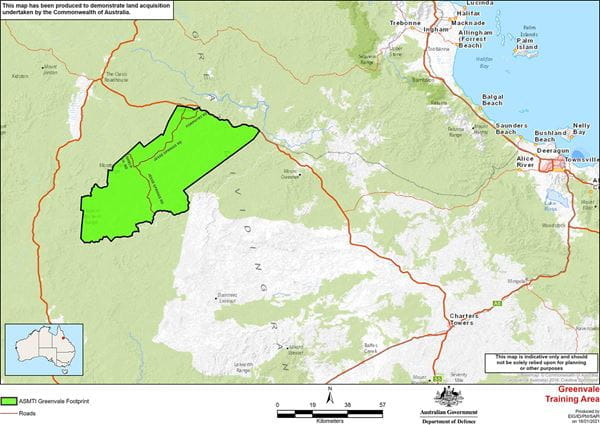 Scope of work
The site will see conversion of grazing properties into a new training area at Greenvale, suitable for both ADF and SAF training requirements, including battlegroup manoeuvre and live fire activities across a mix of environments and terrain. The scope of works includes, but is not limited to:
Site access;
Range control facilities;
Camp accommodation;
Medical facilities;
Field toilets and waste management;
Vehicle wash, hardstand and minor maintenance;
Internal road networks;
Supporting engineering infrastructure;
Urban Operations Live Fire (UOLF) facilities; and
Combined Arms Air Land Range (CAALR).
Local participation in the project
CPB Contractors is working with the Department of Defence to ensure economic opportunities created by this project are maximised through the involvement of local suppliers including Indigenous communities and enterprises.
To achieve its target of more than 90 percent workforce from North Queensland, CPB Contractors will host a number of industry forums and pop up information points during the planning and pre-delivery phases to share opportunities and information.
How you can get involved
Industry forum dates will be posted on this page as they are available and made available through the Defence ASMTI newsletter.
Businesses are also encouraged to register interest through Defence's existing request for Capability Statements.
To be added to the CPB Contractors ASMTI Database, for more information or to arrange a meeting with the Townsville CPB Contractors team email ASMTI.Greenvale@cpbcon.com.au.
ASMTI Engagement and Tender Activity
Information on future work packages will be posted as available.
CPB's commitment to Veteran employment on ASMTI
CPB Contractors is committed to the Prime Minister's Veterans' Employment Program, seeking greater employment opportunities for veterans and recognising the skills, values and experience that veterans bring.
CPB Contractors also supports The Oasis Townsville – the Home Base for the ex-ADF community in North Queensland – supporting the transition, connection and integration of veterans and their families into the Townsville community.